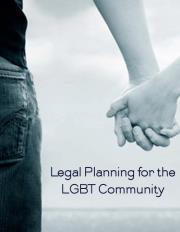 Estate Planning (including Wills, Trusts,
Powers of Attorney, etc.)

&

Planning for Children

Cohabitation Agreements

Couples Married in Other States – What Rights Do You Have in Texas

Separation and Marriage Dissolution Options

Brief Overview of Name and Gender Change Orders

Guest Speaker, Elyse Deleski, Ph.D., LMFT will briefly discuss Pre-Marital Planning for the LGBT Community.

Dr. Deleski will present the highlights of her pre-marital
counseling program that she created specifically for the LGBT community. Her program is designed to increase awareness of issues that any married couple may face, in addition to the
challenges that are unique to same-sex unions.

7920 Belt Line Road
(Southwest corner of Belt Line and Coit)
Dallas, Texas 75254
Training Room B (on First Floor)

6:30 to 8:00 PM
Refreshments

RSVP to Lorie Burch at (972) 385-0558 or
lorie@burch-law.com by February 26, 2013.


Law Office of Lorie L. Burch, P.C.

Wednesday Feb 27, 2013
6:30pm-8pm