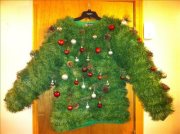 Time to break out Grandma's Xmas sweater!

Its simple, wear a tacky Xmas sweater or garment, bring one unwrapped toy to the Gingerman and get a free beer!
(while it last) Then follow us through out Uptown and end up at sponsor the Round Up Salon for more good times.

The Lost Souls are committed to giving back to community. All toys will be donated to local charities.

Crawl route TBA

Join Us!

The Gingerman

Saturday Dec 1, 2012
7pm-10pm