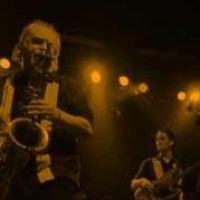 A great group of guys happened to cross paths in life at the perfect time to form Gravity Feed, an incredibly talented up-and-coming band from Dallas, Texas. Together, they bring a healthy mixture of smart lyrics, powerful vocals, memorable melodies, towering solos, and funky grooves that form their refreshing sound. It literally gets you moving.



Gravity Feed is comprised of Kevin Snearley - Guitar / Vocals, Brad Silwood - Sax / Vocals, Cory Hopkins - Guitar / Vocals, Uel Pitts - Bass / Vocals and currently, Matt Dixon on drums. Blessed with natural musical ability, these five guys have worked hard to combine that ability with their learned knowledge, becoming the savvy players you see on stage today.



The care and thoughtfulness used to craft the music is a reflection of their attitude toward each other, family, friends, and fans. This has kept them approachable, providing the ability to establish an incredible connection with everyone, from the stage. Something very special emerges when you combine tremendous musicianship with high quality attitudes...that something is Gravity Feed.
Sundown at Granada

Thursday Dec 13, 2012
9pm-12am